St Patricks Day (March 17)  is the perfect time of the year to parade around in green, chuck on a shamrock top-hat, and dabble in an Irish jig. To celebrate the iconic day, we decided to answer the questions we've all asked about today. Before you follow the rainbow down to The Greenhouse for the pot of gold and drink specials galore, read on and wow your friends with some St Patricks Day history.
While St Patricks day is an international festival embracing Irish culture, it used to be largely a religious feast day for the Patron Saint of Ireland, St Patrick.
Saint Patrick, who?
Saint Patrick's birth name is Maewyn Succat and he was born in England.
He was kidnapped at age 16 by Irish raiders, and held captive in Ireland as a shepherd for supposedly 10 years. He managed to escape back to England and took refuge in a monastery, where he embraced Christianity and became a priest under the name 'Patricius'.
He returned to Ireland to establish a Christian Church, and shared his teachings with the Irish which slowly converted pagans into Christians. Consequently, he became the Patron Saint of Ireland because he brought Christianity to the Irish!
Why do we associate St Patrick's Day with drinking?
During the Christian period of Lent, alcohol was restricted. However, on Saint Patrick's day this restriction was lifted. Irish pubs reopened and everyone had a jolly good time consuming a few (several) cold bevvies. Generally 5.5 million pints of Guinness are consumed daily, yet on St Pats day over 13 million pints are consumed! Some people get really into the festivities and dye their beer green. Forget Dr Suess' green eggs and ham, green beer is the way to go.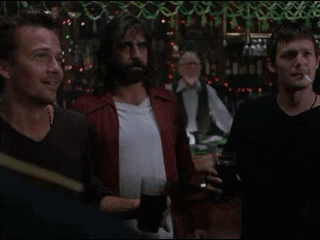 Why is everything green?
Initially the holiday was associated with the colour blue. However due to Ireland's prominent green countryside, nickname as the Emerald Isle, and the green shamrock St Patrick used in his teachings the main colour soon changed to green.
With over 40 tonnes of dye, the Chicago river transforms into a shade of bright green and lasts for about five hours.
What's with the shamrock?
St Patrick supposedly used a three leaf clover to explain the Holy Trinity (Father, Son and Holy Spirit) to the Irish people. Ireland's magic number is also three and the shamrock is supposed to bring good luck!
Where did it all start?
While the religious celebrations were observed in Ireland, the festivities started in the 1700's in America by the flock of Irish immigrants during the Great Potato Famine. In 1762, they marched throughout the streets of New York City (NYC) playing traditional music on bagpipes and drums, to reconnect with their heritage, each other, and demonstrate political strength. NYC is still home to one of the world's largest Saint Patrick's Day parades!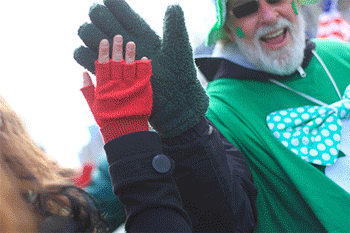 Comments
comments