This week on the Real Housewives of Sydney: The women recover from the tumultuous Persian night and Victoria uninviting Athena causes quite the stir.
PEP TALKS
First we meet up with Athena X-Ray Vision Levendi, with full hair and make-up DONE, while having a very serious pep talk with her husband Panos. Athena relays her trauma of the Persian Party, acknowledging her maybe "short fuse", try pure dynamite. "I'm not a Buddha meditating on a mountain all day" well colour me shocked.
Athena says had a spiritual meltdown, one of many. "Well you're not a robot" replies Panos, not in this life at least. The women "took (Athena) down to the basement of (her) soul and in our basement is…all our shadows" Every line Athena says sounds like a 5-year-old kid learning comprehension.
Panos tells Athena "You have beauty, you have style, you have grace" She's miss United States? Panos is by far the most stable and supporting spouse on the show; the yin to Athena's batshit yang, opposites really do attract.
LADIES WHO LUNCH
Victoria's meeting with a Victor Chang Institute representative, Joh Bailey and her business partner to discuss their upcoming charity event for the launch of her new product "Wrinkles Schminkles", which contrary to popular belief is not the newest of Dr Seuss' children's novels.
The product schminkles your wrinkles with silicone plates that pretty much iron the creases out of your skin. Victoria didn't come up with the idea but hitched her large bank account to it when she first heard of it; saying "I put my money where my mouth is". Why her mouth was on medical grade silicone plates remains unknown. When Victoria discusses her work Joh is shocked, asking "You work?". Mate, tormenting Athena is a full time gig.
DANCE DANCE REVOLUTION
Melissa is auditioning dancers for up and coming gigs, yeah okay, in nightclubs at 2am. Melissa LOVES it, she says, just letting the dancers do the dancing while she does the lipsynching 'singing'. Melissa just wants "young funky dancers, who know how to dance", you would hope dancers would know how to dance
Melissa has invited Krissy because she is the most experienced when it comes to 'dancing' on stage in late night, dimly lit venues for dirty money.
Melissa says Krissy is just good at getting everyone to "relax, calm down and enjoy themselves", maybe for 60-year-old men in the back of a limo, but Lisa Oldfield is not so charmed.
Krissy is amazed that Melissa has survived for as long as she has in the industry. Although I wouldn't call Australia's answer to Sharknado and lipsynching at 2am in Sydney gay clubs, 'surviving in the industry'.
Krissy tells us "every male dancer caught my attention" her chair becoming more slippery by the second. Watching them dance is "like admiring a painting" except unlike Athena's paintings, you don't get slut shamed and screamed at while doing it.
When Melissa announces the victors (not Chang), Krissy of course needs to get in the last word, blaring that they're her "lucky numbers" and thanking them for all coming to Melissa's auditions.
Finally Krissy screams I WANNA BE A POP PRINCESS as she dances in the center of the failed dancers like that drunk aunt from every family gathering ever.
OLDFIELD MANOR
Over on the North of the bridge, talked about like the North of the wall by the Eastern Suburbs elite, Lisa is making cocktails with her thermomix draped in her pet python because she's quirky and fun, lol.
A very concerned Matty screams at Lisa to "Hold the head", sounding like Krissy's husband upon return from Shanghai.
Lisa takes the girls to her assault course, and they watch on horror as her child wields an axe.
Melissa blends in wonderfully with the rest of Lisa's plants as Matty, forever the trooper, stumbles around the course trying to compete with Lisa's offspring as they fly around the sheltered wives like monkeys.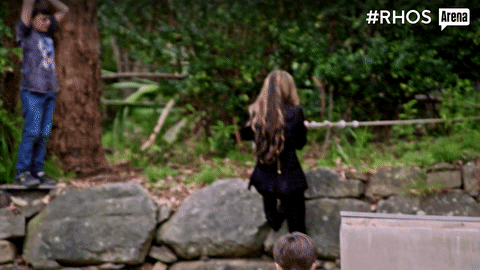 SIX MONTHS ON A LEAKY BOAT
With James Bond theme music, a glass of champagne and questionable matching fedoras, Krissy, Nikky and Vicky sail the waters of Sydney Harbor in an image of white privilege.
"I'm very blessed to have spent some time on some beautiful, beautiffuuull boats" Nicole purs before relaying the wonders of traversing southern Europe aboard wonderful boats. Lucky for Nicole she has her OWN boat so she can go on Sydney Harbour at any time she pleases, aye aye Captain (Eyebrows). Yeah well I have a pretty sick opal card that gives me discounts on Sundays, but I'm not bragging.
Victoria questions the authenticity of Athena's story of childhood abuse, but (concerned for their public image) Nicole and Krissy protest their queen's doubt. Vicki is not inviting Athena or Lisa to her upcoming event, but Athena's Levendi diamond can come, thankyouverymuch.
WORK BITCH
Lisa struts into work waving in the direction off camera as if someone in her office actually cares or notices her.
She calls Athena to tell her about the MAJOR deal she just closed at work, while at her perfectly paperwork free desk, with a computer screen switched off.
Athena is fuming following Victoria's un-inviting of her to the Wrinkles Schminkles launch, as she delicately puts it: "what a COW, what an ungracious….user" "a despicable, horrible, uncouth kind of woman".
Lisa is not surprised because Victoria "continues to disgust her". Athena is done with these "low-vibrating people", but I'm pretty sure Krissy is pretty big on vibration.
If it were Lisa she would've told Victoria "here's a f*cken kinder surprise, get f*cked". And by that token, Easter morning sure will be fun for the Oldfield boys.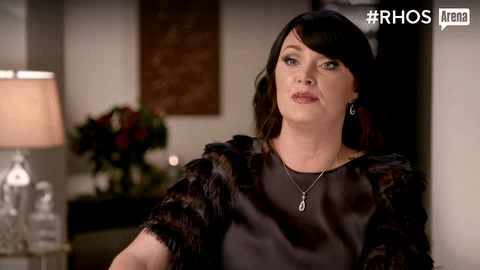 Lisa is plotting her revenge as she speaks, and that revenge comes in the form of two words: LIZZIE.BUTTROSE.
DIAMONDS ARE FOREVER
Mike Levendi (Athena's brother-in-law) comes to drop off the esteemed Levendi necklace for Victoria's auction, as well as to get in some good ole' fashioned guilt tripping.
Victoria tells Mike that Athena just 'screams and yells' at every event and wouldn't want that ruining her product launch, but Mike doesn't see it; well get prepared to see it in full HD for 10 episodes straight.
Levendi, Levundi, to-may-to, tomato. Victoria is not that impressed with the diamond, "it's no hope diamond".
Lizzie Buttrose, decked out in Levendi jewels, looking like a Muppet put through a wind tunnel, is a woman on a mission to terminate Victoria's function. "Where are my friends Lisa and Athena?" she blurts out after showing Krissy a photo of her "real queens"
Lizzie isn't done, calling Victoria "a bully" "revolting" "disgusting" and "horrible". Bitch has some nerve rocking up to an event drunk, uninvited and attacking the host, all while donning the hair of an unbathed wildling.
The other women aren't impressed with Lizzie's form, and are especially horrified by the state of her hair, a heinous crime in a Joh Bailey salon. "She's a scraaaaaggg" Victoria screeches, saying Lizzie "looks as rough as guts". "I want her to leeeaaaavvveee" "I want to kick her ouuuuuttt" Victoria drawls.
"Why doesn't she get a blow dry?" questions Matty, asking the question on everyone's lips.
Nicole sums it up with an eloquence that only Nicole could pull off, "She was drunk, she was out of line, I can hardly look at her she was all over the place, and all I could think of is how bad her hair was".
In the live auction Joh Bailey, like a good gay, stirs up some more drama when selling the Levendi diamond, saying "the one that Victoria hates" and calling it a "dear LITTLE thing".
After a successful night, the ladies, with the exception of Matty who has seemingly disappeared without a trace, all regroup to discuss the happenings of the night. Seeing Athena's Instagram post, Victoria becomes concerned "Athena looks like she had a stroke, is she okay" Athena may need Victor Chang after all.
Melissa reveals that a photographer in Singapore who was a massive fan of E-Street wants to photograph her and she is inviting the other ladies to tag along, because this is completely normal. Sounds like some dude who used to stroke it to pictures of Melissa wants to fulfil his childhood fantasy and shoot her one more time.
Krissy of course LOVES Singapore, with everything she says sounding like slimy innuendo. Melissa doesn't know whether to invite Athena and Lisa, the other women encourage her not to, knowing full well it's contractual for them all to go stay together for some great DRAMA.
Next week: Things heat up in Singapore and Victoria is back to doing what she does best: throwing shit at Athena.
Comments
comments